Recently, I reviewed Twibs, a directory that lists all brands and businesses currently using Twitter.
Electric Artists released Tracking Twitter, a new app that is a real-time listing of the top brands, media, television, entertainment, and celebrities that the team is currently following on Twitter.
While this service offers appeal as a directory for consumers seeking their favorite brands and personalities on Twitter, it's much more promising as a real-time monitor of how businesses, media properties, and celebrities are using Twitter – for better or for worse.

The directory includes notes next to each account, although I'd suggest that it's far more effective to simply click through and view their update history on Twitter to get an idea of how they're interacting with the public and also identify helpful patterns. Also open up an additional window and run each account through TwitterFriends to get an overview of how they score according to their tweeting behavior.
For example, @comcastcares is listed as a recommended brand, so let's take a look at the work of Frank Eliason and team on Twitter (A long overdue hello goes out to you Frank!)

As you can see, @comcastcares is the definitive example of how to participate on Twitter. He's active, engaging, helpful, and resilient. The stats on TwitterFriends echo this sentiment based on an analysis of the collective tweets and @'s.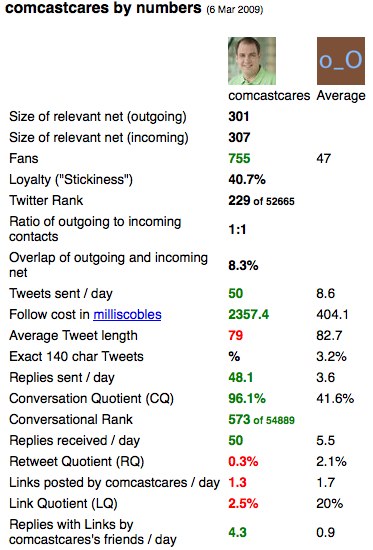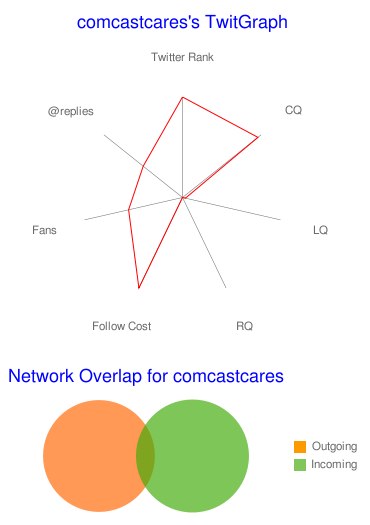 Perhaps most notably, @comcast cares boasts high marks for the metrics that count for service-minded brands, strong @ replies, high Twitter Rank, an engaging conversation quotient (CQ), and a supportive community. The only opportunity for improvement is the bridging of the gap between incoming tweets and outgoing responses.
Using Tracking Twitter or Twibs as a looking glass into the brand adoption of and practice on Twitter can only help you garner intelligence, ideas, and effective engagement strategies.
The rest is up to you.
Will this help you or do we need a service that integrates a brand directory with TwitterFriends functionality?
Related Posts on PR 2.0:
– Comcast Cares and Why Your Business Should too
– Facebook Swims Its Way into Your Lifestream: What the Facebook news means to you
– Top Trends and Apps: How Do People Use Twitter?
– The Ties that Bind Us – Visualizing Relationships on Twitter and Social Networks
– Make Tweet Love – Top Tips for Building Twitter Relationships
– The Battle for Your Social Status
– How Dell Deals with Twitter
– Need a Dictionary for Twitter?
– Introducing MicroPR, A Resource for Journalists, Analysts, & Bloggers on Twitter
– Twitter Tools for Communication and Community Professionals
– Is Twitter a Viable Conversation Platform
– Is FriendFeed the Next Conversation Platform
– State of the Twittersphere