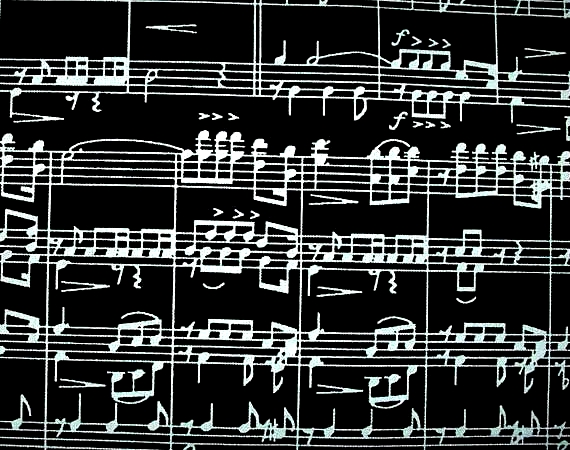 Relationships are so much more than the mere act of following or friending someone on Twitter or any social network for that matter. It's the balladry of transcending online connections into real world relationships. It's the cadence of interaction and the poetry of conversations that empower the human network and the escalation of the Social Economy.
On Social Networks we're bound by context and not necessarily by the relationships that link us in the real world.
We listen to relevant keywords to learn from others who share our interests and passions.
We're followed or friended by people prior to understanding who they are and how we're potentially affected through an alignment.
We're complex and multi-dimensional individuals, more so online, who distinctly connect with varying contacts tethered to transforming frames of reference.
The expansion and contraction of our relevant network and the corresponding networks of those who follow us, our friends, and our friends of friends (FoFs), collectively compose a unique concerto with every new contextual network. It changes and evolves in structure with every new orchestra that performs it.
While Facebook discusses the significance of the Social Graph within its walled garden, only Twitter provides the looking glass into a tangible human network, albeit tied specifically to Twitter, revealing who we friend, who friends us, to whom we "@" and those who actively @ or refer to us and our online Twitter persona. Imagine if we had access to visualize these interactions on Facebook or the nodes that link us as we traverse across the Statusphere and the Conversation Prism.
Twitter is much more than the darling for Social Media. The founding team wisely opened up its platform to allow developers access to improving, monitoring, extending, mapping, visualizing, and measuring engagement within the micro community. Doing so has held a profound effect, transcending micro communication into a macro cultural shift, disrupting and changing the very fibers of human interaction.
Several tools exist now to chart and plot relationships between people and also keywords/tweetclouds. I've written about Twitter-Friends quite extensively – and thus far, it's still one of the most compelling solutions for any research professional or brand manager examining the ties that bind users and also how well they listen and respond to their community.
However, there are two new services I wish to share with you, Top Twitter Friends and Social Collider.
Top Twitter Friends/Mailana
Top Twitter Friends is a sophisticated and also innovative mapping tool for revealing our social network defined by interaction, interconnectedness, geography, and also keywords. The map comes to life allowing you to click on contacts for additional details as well as those to whom they're connected. Relationships are traceable and moveable to more closely those who are directly connected in addition to you. The maps are also exportable.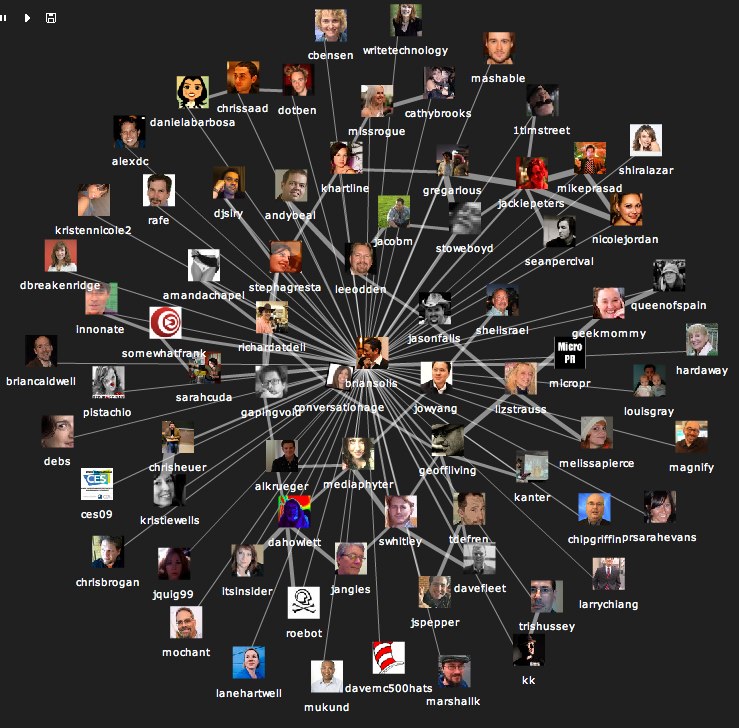 Top Twitter Friends also provides a top 20 list of contacts as well as an analysis of who we should follow globally and locally.
Social Collider
Social Collider visualizes connectedness not by relationships, but by those who are drawn to content and linked together through common interests based on each topic. Essentially, it's a conversation map.
This is how I define the Relevant Net.
Social Collider establishes a powerful Influence Factor (IF) through a related network that connects second, third-level and sequential friends and friends of friends (FOFs) that are bound by topic and time.
Social Collider reveals cross-connections between conversations on Twitter, allowing you to search for usernames or topics, Conversations are tracked through time and visualized "much like the way a particle collider draws pictures of subatomic matter."
Posts resonate, spin off, and horizontally link to users or topics who relate to them, either directly or in terms of their content.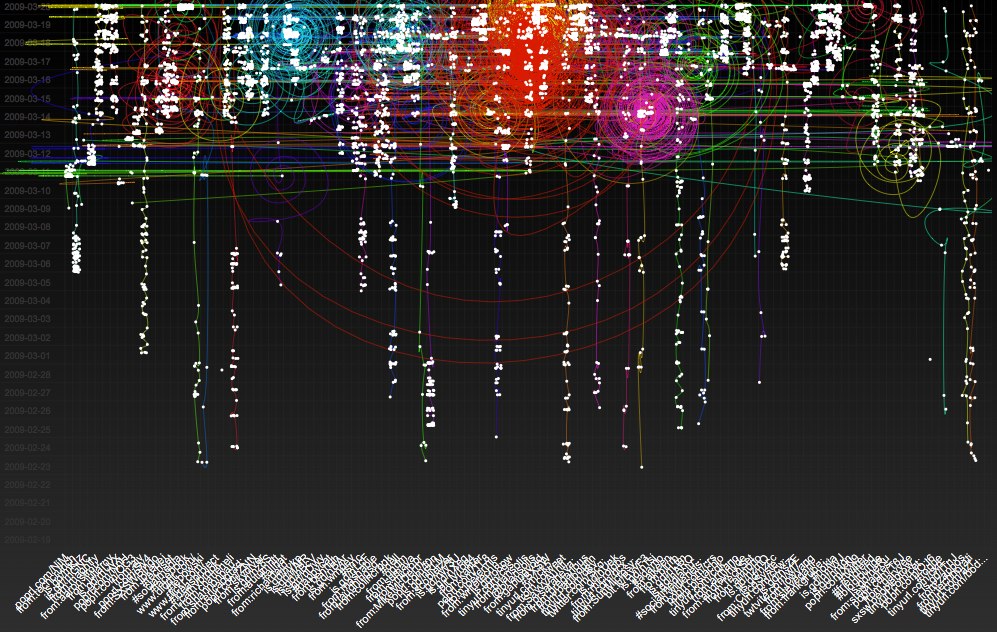 Micro Disruption Theory and The Social Effect
The individual Relevant Net is networked by the common interests of people as they relate to specific dialogue over time and also in the moment, and thus, it's always expanding and contracting. I call this the Micro Disruption Theory and the True Social Effect.
Connections with friends and followers and their respective FoFs is constantly shifting and never duplicative in its exact alignment.
I believe we identify uniquely with different individuals across varying topics, but the timing of each update we share (disruption point) combined with the state of the extended attention aperture of friends and FoFs are perhaps the most important factors in determining the thread and viral opportunity for potential conversations and content sharing. A true social graph and the relationships that define it are constantly influx and measurable only as snapshots tied to subjects frozen in time.

Micro Disruption Theory visualizes the true opportunity for resonance and the potential course and reach for the ensuing Social Effect that connects people and content across social graphs.
Update / Time + Attention Aperture = Unique Impressions
Unique Impressions x FoF sharing = extended unique impressions and FoF resonance
I suspect that the crossover between those who participate in each conversation is relatively small, not only governed by interest, but also by the aperture of an attention lens when a conversation is initially introduced. While you have X quantity of friends and followers total, at any given time, only a micro portion is primed for a distraction, and even fewer are compelled to either act or share.
The truth is that the same update delivers different results dictated by the alignment of time, attention, and bandwidth for action. In the Social Web, there is no longer a right time, right place to contextually connect – thus requiring the constant participation and injection of value and dialogue to expand the potential for increased resonance opportunities, alignment and community.
We share in the desire to connect with those who share our affinities and passions. The constant curation and cultivation of value-added and sympathetic dialogue, information, and actions is how we compose the distinctive procession of notes that serve as our theme.
Helpful Posts on PR 2.0:
– Putting the Public Back in Public Relations is Now Available
– Twitter and Social Networks Usher in a New Era of Social CRM
– The Human Network = The Social Economy
– In the Statusphere, ADD Creates Opportunities for Collaboration and Education
– Humanizing Social Networks, Revealing the People Powering Social Media
– Are Blogs Losing Authority to the Statusphere?
– Social Networks Now More Popular than Email; Facebook Surpasses MySpace
– I Like You
– BackType Connects the Conversation Graph
– Tracking Brands on Twitter to Improve How You Listen and Engage
– The Ties that Bind Us – Visualizing Relationships on Twitter and Social Networks
– Make Tweet Love – Top Tips for Building Twitter Relationships
– The Battle for Your Social Status
– Twitter Tools for Communication and Community Professionals
– Is Twitter a Viable Conversation Platform
– Is FriendFeed the Next Conversation Platform
– The Social Revolution is Our Industrial Revolution
– The State of Social Media
– Free ebook: The Essential Guide to Social Media
– Free ebook: Customer Service, The Art of Listening and Engagement Through Social Media
Connect with me on:
Twitter, FriendFeed, LinkedIn, Tumblr, Plaxo, Plurk, Identi.ca, BackType, Social Median, or Facebook
—
Subscribe to the PR 2.0 RSS feed.
—
Now available:

—
micro theory dialogue conversation social+effect effect twitter facebook collider map context chart visual connection disruption point aperture lens attention scarcity partial continuous pr pr+2.0 pr2.0 public+relations marketing advertising interactive social+media socialmedia brian+solis social media media2.0 media+2.0 2.0 smo social+media+optimization marcom communication publicity