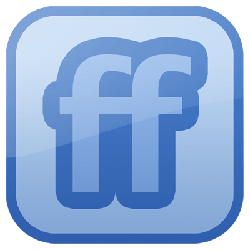 I recently discussed the viability of Twitter evolving beyond a micro community into a standardized platform for macro conversations. It's certainly the path Facebook is traversing. And, both are making significant progress in the race to syndicate and aggregate the discussions that are important to us within our respective social networks.
There is another emerging platform worth discussing as it is quietly growing into an alternative solution to the disparate communities that are pervasive throughout the social web.
Ladies and gentlemen, add FriendFeed to your radar for listening, participation, and relationship building.
Defining FriendFeed is easier said than done. In fact, it's less of a competitor to Twitter and more of a vertical threat to Facebook's prized News Feed. The News Feed feature in Facebook is considered the central nervous system to the social graph. It powers conversations, connections, and collaboration. As Facebook Connect "connects" you and your social graph across the Web, it will increase in value as it aggregates all outside activity into one centralized stream for your friends, and friends of friends, to review, interpret, and respond. Also, don't rule out an acquisition of Twitter either.
FriendFeed is one of the most prominent examples of a dedicated lifestream (brandstream). It channels your social activity and also that of your social graph into one simplified river of relevance. As new items appear in the stream, it invites bookmarking and threaded conversations that promote dialog. For example, you can import activity from flickr, youtube, twitter, backtype, blogs, Last.fm, Seesmic, Upcoming, LinkedIn, Yelp, Amazon, Picasa, Delicious, StumbleUpon, Digg, Reddit, Disqus, and 12 seconds. The growing list of services currently sits at 60, but technically you can integrate any service that generates an RSS feed. Most important is FriendFeed's ability to port your Facebook status into your stream. Technically, you can now host, contribute to and participate in a more comprehensive "news feed" with the potential of reaching a far greater, or perhaps focused and dedicated audience of people who either aren't on Facebook or prefer something different.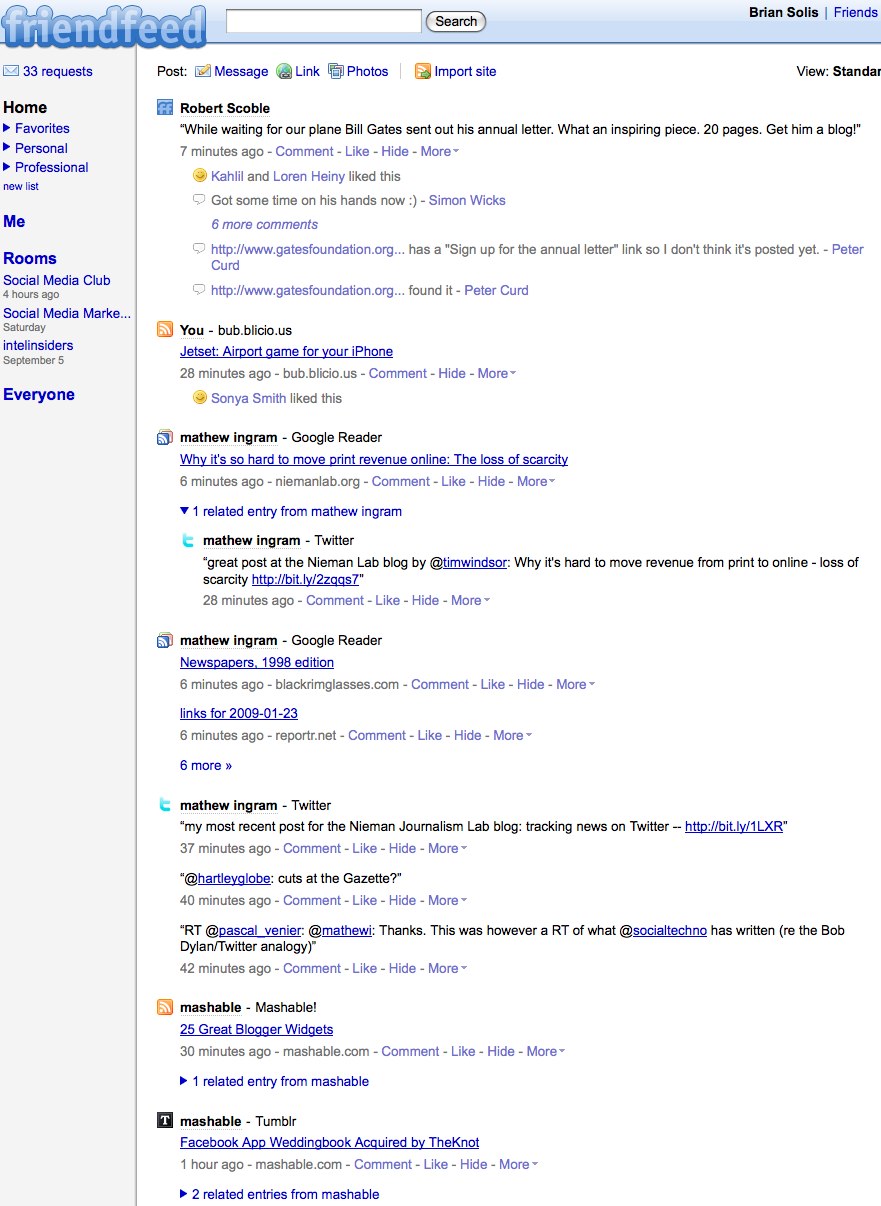 FriendFeed is also unique in that it offers custom rooms to host and join dedicated conversations related to any given topic. Your stream can also export to websites, outside communities, blogs and social profiles.
We celebrated Twitter's rise to 4.5 million uniques in just over two years, which was enough to surpass Digg's highly regarded traffic milestone. In less than a year, FriendFeed is nearing one million unique visitors, representing a 3,170% increase.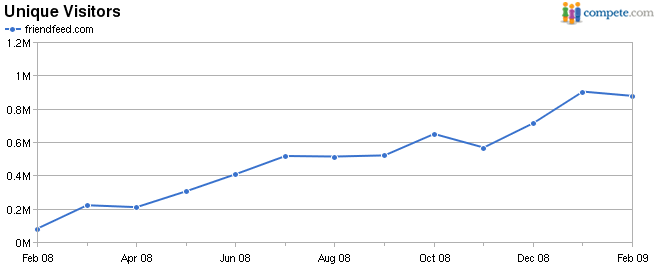 When compared to other social aggregation and lifestream services, FriendFeed's trajectory is incredibly promising. You'll also note that the category represented through the following services is also on the rise, with Tumblr at 1.4 million unique visitors, AOL's SocialThing realizing 186% annual growth and Google's Jaiku open micro community platform is still on the rise with a 33% increase over the last year..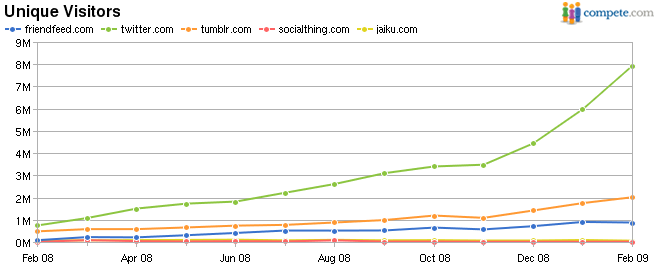 If you compare FriendFeed to other micro communities, it appears to be the only platform that is not only growing, but also cultivating an active and significant user base. Plurk is the largest alternative micro community with 256,000 unique visitors and Yammer places a distant third at 86,000.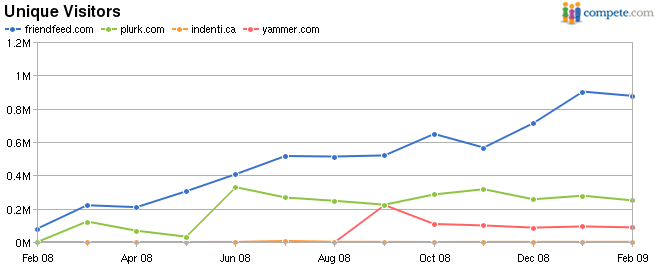 FriendFeed will only continue to increase in significance, broadening its reach, expanding its user base, and diversifying its user base from early adopters to mainstream market catalysts over the next year. This momentum will continue to be fueled by the addition of new and popular services combined with the dedicated evangelism and amplified awareness generated by influential (and passionate) users such as Robert Scoble, Louis Gray, Chris Brogan, Laura Fitton, Michael Arrington, Dan Farber, Chris Messina, Brian Oberkirch, Loic Le Meur, and Dave Winer. And, it's not just the usual voices who will propel FriendFeed as a viable conversation platform, it extends to the many, many others who are authoritative and trusted within their dedicated spheres of influence and reach.
I'd love to hear your views, opinions, and predictions…
Related reading on PR 2.0:
– The Poetry of Social Networking to Court Customers and Invest in Relationships
– Top 40 Must Read Posts on PR 2.0 in 2008
– Twitter Tools for Community and Communications Professionals
– The State of Social Media 2008
– The Social Revolution is Our Industrial Revolution
– The Essential Guide to Social Media
– The Social Media Manifesto
– Introducing The Conversation Prism