Credit: Ariel Waldman
This is part of my ongoing series on Crisis Communications 2.0, which helps companies and marketing professionals learn from each other to more effectively communicate with customers, stakeholders, media, and peers.
I purposely waited to write this post until this discussion cleared techmeme so that I could reach a fresh set of people who could see things clearly, while also calling attention to something we overlook everyday.
When's the last time you actually read the terms of service (ToS) for any social network you joined?
I think for most of us, we assume that they'll protect us as well as themselves, blah blah blah, and we'll all get along happily ever after.
What happens when the ToS of your favorite service work against you? And even worse, what happens when the ToS you abide by, instead protect someone who's actually using the service to continually attack you personally?
Such is the case currently with Ariel Waldman versus Twitter. Disclaimer: Ariel is the community manager for Pownce, an indirect competitor to Twitter. The following activities transpired before she joined the Pownce team.
For those of us who remember, Kathy Sierra showed us the ugly side of people and their disgusting behavior in online communities. And while Kathy's experience represented the extreme dark side of cyber stalking and online threats, Ariel's experience is not any less important.
For almost a year, across multiple social networks, Ariel Waldman has been the victim of relentless and unnerving personal attacks.
The very things that empower individuals to engage in conversations and cultivate communities in social media also amplify the regrettable behavior we hoped to leave behind in the real world.
In Ariel's case, her cyber-stalker has publicly and directly harassed her on Flickr, Digg, and Twitter. When Ariel alerted Flickr that someone was violating the ToS by verbally attacking her on the network, Flickr responded immediately and removed the offending posts, each and every time, and ultimately blocked the user.
Twitter, a service that is near and dear to all of our cyber hearts, surprisingly, erred on the side of the user allegedly violating the ToS. I find this fascinating, as Twitter's terms of service were inspired by the community-focused spirit that powers flickr (as noted).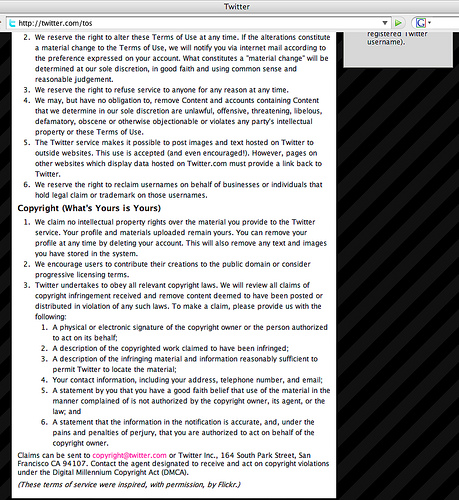 Twitter clearly states, "You must not abuse, harass, threaten, impersonate or intimidate other Twitter users."
They also protect themselves with the addition of, "We may, but have no obligation to, remove Content and accounts containing Content that we determine in our sole discretion are unlawful, offensive, threatening, libelous, defamatory, obscene or otherwise objectionable or violates any party's intellectual property or these Terms of Use."
After speaking with Ariel, I realized that her motives were undoubtedly clear and unemotional. This was about holding a company to enforce the Terms of Services that they defined and we agreed to follow – nothing less, nothing more.
"It's just not OK to allow this behavior in a public network when it is a clear violation of their ToS," exclaimed Waldman.
She's right. Note, I'm not including the extreme language used against Ariel in this post. Her case is strong enough without it. If you would like to read about the jaw-dropping insults and attacks, read her posts here and here.
Twitter initially showed support for Ariel. In June of 2007, she received the following response from Twitter to her reports of abuse:
"[We] have decided, as a preemptive measure, to remove [the user's] updates from the public timeline. … If you have anymore problems with [this user], please let us know right away, we're here to help :)"
Unfortunately, the harassment continued throughout 2007 and as such, Waldman would periodically report each case. After escalating to a dangerous level in 2008, Waldman needed resolution. The abuse was now appearing in traditional search engines, completely affecting her personal brand and potentially, her livelihood.
Ariel was deeply concerned. Flickr was responsive. Twitter's next steps ultimately would become the focus of debate, scrutiny, and the landmark case for ToS and customer service across the Social Web.
At the apex of abuse, Ariel contacted Twitter once again, "Since this is an ongoing case and due to the nature of the content, I think this person is clearly violating Twitter's TOS and I find it necessary for Twitter to uphold to this: "4. You must not abuse, harass, threaten, impersonate or intimidate other Twitter users." Honestly, I believe this harassment has gotten way out of hand for too long. I am writing to you and to Twitter to remove this user for consistent long-term harassment."
Twitter suddenly changed its tune (after three days), "Unfortunately, although [this user's] behavior is admittedly mean, [s/he] isn't necessarily doing anything against our terms of service. I've been following [their] profile since your first complaint to monitor [them], as well. We can't remove [this user's] profile or ban [this user's] IP address; [they're] not doing anything illegal."
Ariel was mortified and as she had told me earlier, she was less concerned about the legality of the issue and completely focused on the abuser's violation of the terms of service – You must not abuse, harass, threaten, impersonate or intimidate other Twitter users.
This time, she cc'd Jack, Twitter's CEO, on her response, "I don't believe this is a case of illegal activity – this is a clear case of harassment which is outlined in your TOS. To be blunt, I find that someone using your service to call me a "cunt" in a public forum is defined as harassment. Again, your TOS states: You must not abuse, harass, threaten, impersonate or intimidate other Twitter users. It's Twitter's responsibility to uphold the TOS, otherwise the TOS has no meaning."
Jack requested a call on March 19th. Ariel took notes. Here are the highlights:
"I told Jack that it the harassment has escalated and that it was a very clear violation of their TOS and that I had had similar cases of harassment on Flickr in which Flickr took down all 3 of the harassing accounts…"
"…Jack explained that they're scared to ban someone because they're scared if it turned into a lawsuit that they are too small of a company to handle it…"
"…Jack additionally explained that their TOS was up for interpretation, to which I responded that it isn't. I explained that it clearly states "You must not harass other Twitter users" and that harassment is defined as continuous small attacks, which this is…"
"…Jack then asked me about what other social networks had done. I said that Flickr deleted all the profiles and that services like Digg and Pownce don't think twice about banning abusive or harassing users because it's part of the TOS…"
"…Jack asked me what good it would do to ban my stalker since it seemed obvious that the stalker would continue to stalk me elsewhere. I told him that it was not his nor Twitter's responsibility nor business to stop my stalker, but that it was very much their responsibility to identify users violating their TOS on their own service and take action accordingly…"
"…At the end of the conversation, Jack asked me "well, what would be a happy resolution for you?". I responded saying that seeing the user who is consistently harassing me banned…"
It took three weeks and eight new instances of abuse (that had escalated to include full name and email address) in order to get Twitter to respond again to Ariel. It was this email that sparked Ariel's public response.
Jack replied, "Apologies for the delay here. We've reviewed the matter and decided it's not in our best interest to get involved. We've tasked our lawyers with a full review and update of our TOS. Thank you for your patience and understanding and good luck with resolving the problem."
This response is simply unbelievable on many levels, 1) They're more fearful of receiving a lawsuit from those harassing other Twitter users over those getting harassed; 2) Instead of warning the harasser, or even better, removing the offending posts and the account, they opted instead to review the ToS; 3) The very service that is inspiring companies to improve customer service by listening to the conversations on Twitter is instead, not learning how to use it to their own advantage.
Are the terms of service for any company open for review anytime someone asks them to be enforced?
I don't think so…
It doesn't stop here however.
Ariel insisted on keeping this at the customer service level instead of leaning on the emotional pleas for companies to help her stop her stalker. She took the discussion to GetSatisfaction, a new and popular social community for connecting companies, users, and stakeholders around topics that affect customer service.
Ariel opens the forum discussion with a powerful statement, "I think it's extremely important for Twitter to develop policies around their Terms of Service to stick by. In short, it's completely unacceptable for Twitter's users to be harassed to this level and have Twitter refuse to ban anyone for fear of being sued. Yahoo, Flickr, Pownce, and Digg do *not* take these kinds of TOS violations lightly and will ban users/content if there is even a question of harassment.
In fact, I would like to call out that Twitter can't be sued for banning users under Section 230 of the Communications Decency Act."
This time, Jason Goldman and company co-founder, Biz Stone addressed Ariel's concerns publicly.
According to Jason, "The existing terms are, as noted, inspired by those used by other services. And through them we reserve the right to take action against many different types of content issues… But in practice, we only act in specific circumstances. (Some of this has been posted before). For this reason, we're in the process of reworking the existing terms to reflect what we enforce."
This stance was supported on the Twitter blog, "This speaks to our larger stance that Twitter is a communication utility, not a mediator of content. For those who are interested in this debate, please note that we are engaged in editing our ToS so it more clearly states the scenarios in which we will take action."
Perhaps the most troubling part for me, other than the fact that Twitter believes that amending the ToS to better cover their asses was the belief that, "Twitter is a recipient-driven utility; you choose what content appears in your timeline. We offer tools like block so that users can distance themselves from others with whom they have disputes or disagreements."
I think for most of us, we view Twitter as a full-fledged community for social networking and not merely a series of pipes for communicating with each other. Blocking people who post derogatory, embarrasing, and damaging remarks and information is not the solution. Just because you no longer see it in your public timeline, doesn't mean that this disparaging content isn't indexable and discoverable on the Web. There's a huge liability issue associated with allowing that content to remain online.
Biz responded with additional information that helped shed light on their decision making process, "This account is no longer available for review because the person who created it willingly removed it back in March. We reviewed this account at the time of the complaint and did not find it in violation of our Terms."
Yes, the person did remove the account, only to continue the harassment through others, includng @confessions, on Twitter.
Biz continued, "The fact that so many of us can have differing opinions without having even reviewed the content we're discussing highlights the difficulty of this issue. In fact, Twitter recognizes that it is not skilled at judging content disputes between individuals. Determining the line between update and insult is not something that Twitter nor a crowd would do well. Essentially, Twitter is a communication utility, not a mediator of content."
Indeed, many challenges are highly subjective and not as clear cut as Ariel's case. Where does it stop? Who's to say what crosses the line? How would these decisions affect the satisfaction of other users?
Well, to be honest, a dedicated community services manager could only help determine those answers. Yes, Twitter is a small company, but it's a big service with massive implications on how people communicate with each other. It's changing everything. They need to set the standard.
And as I said earlier, companies are actively using tools such as Summize, Tweetscan, and GetSatisfaction to listen to conversations taking place on Twitter in order to engage with customers directly.
I disagree with Twitter in that its users definitely view the company as a community and not a communications utility. My phone is a communications utility. IM is a communications utility. Email is a communications utility. Twitter is a social network that connects me to my contacts and in turn connects them back to me in a way where we can learn and share in the greater context of public conversations.
And, of all of the social networks out there, Twitter is by far the most personal, and therefore, the most critical for defining and maintaining terms of service that protect everyone who contribute to making it a valuable and rewarding experience. Anything less relegates the service to the lows of Google and Yahoo boards and unmoderated forums across the Web – services that almost every Twitter user has abandoned because of poor experiences. Twitter is better, and more important, than that.
I asked Ariel that if she could wish for one thing to come out of all of this, what would it be. She responded without hesitation, "I wish that Twitter got the fact that people view them as a community and that they would show a little more understanding of that aspect."
She added, "A little more understanding would only help. I can only hope that people see this as a more serious issue."
Overall, this discussion reminds us of many things. First, and most importantly, beware the things you share in social media. Second, read the terms of services carefully. They should define how you participate within each community. Third, don't be afraid to share your story. While this isn't mob rule, the empathy of your peers can be a strong catalyst for positive change.
As a note to companies, including Twitter, the terms of services must be more than words – especially if they're inspired by other companies who are setting the bar. They serve as the foundation that defines the experience for the very people we hope to retain as users and hopefully, inspire as evangelists as well..
Social Media and Micromedia represent incredibly new opportunities to engage customers with indifferent, negative, and positive views, to help shape perception. People have a powerful voice nowadays and it changes how we listen and respond to them. Recognizing not only the platforms available to customers as well as companies, influences how we should respond, before we respond. These discussions can spread and it's only in our best interest to think through responses that affect the end game, not simply limited to inquiry by inquiry.
The road is long and customers are the fuel that drive us.
For more on this discussion, please read:
Carolyn McCarthy
Violet Blue
Crises Communications 2.0:
Facebook is a Beacon for Bad PR
Apple and the iPhone Price Bomb
The Skype is Falling
Microsoft PR Sparks a Blogstorm of Support and Outrage
Connect with me on Twitter, Jaiku, LinkedIn, Pownce, Plaxo, FriendFeed, Tumblr, or Facebook.