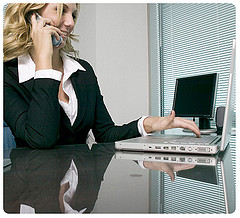 It's fascinating to see how the "PR 2.0" manifesto has spread through a natural and intelligent set of influencers over the last 10 years, without attracting "opportunistic" PR professionals to jump on the bandwagon – until now.
Now with Web 2.0 starting to crossover into the mainstream, PR 2.0 (and everything 2.0) has become the golden ticket for misguided marketing professionals.
Just a side point though, how many people can accurately define Web 2.0 anyway? Answer, not many.
It is often mischaracterized as the new rev of Web hype aka bubble 2.0, without regard for the technical undercurrent that enabled the transformation from the static web to a two-way and many-to-many experience.
But back to this discussion…
It's been an uphill battle since we (a hybrid breed of PR and web marketers) first started using the term in 1995/6 as a way of analyzing how the Web and multimedia was redefining PR and marketing communications, while also building the toolkit to reinvent how companies communicate with influencers and directly with people.
It was a chance to not only work with traditional journalists, but also engage directly with a new set of accidental influencers, and, it was also our ability to talk with customers directly (through forums, bbs, etc.)
No BS. No hype. Just an understanding of markets, the needs of people, and how to reach them at the street level – without insulting everyone along the way.
The concept was actually inspired by Web 1.0 and the new channel for the distribution of information it represented. It changed everything. It forced traditional media to evolve. It created an entirely new set of influencers with a completely different mechanism for collecting and sharing information while also reforming the daily routines of how people searched for news.
At the time, software revs were an important part of the day-to-day marketing grind (for us), and 2.0 seemed an appropriate moniker. Not unlike when Business 2.0 launched with a similar intent of documenting the transformation of business in a new, online economy (e-conomy for those who remember).
Instead of publishing a magazine however, many savvy marketers decided to use PR 2.0 as a philosophy and practice to improve the quality of work, change the game, and participate in a more informed and intelligent way.
We envisioned fusing the intelligence of market analysts, the mechanics of Web marketing, the credibility of market influencers, and the conviction and reach of passionate evangelists. And to this day, this is still the case.
However, marketers are starting to link PR 2.0 with the social carnival of Web 2.0, offering services to help clients and companies tap into "the power of blogs, social networks, etc." Many of these people were also guilty of offering hollow "new media" services during the first boom and others are just too young to remember the transformations that were already set in place in the 90s.
The problem is that very few professionals across the generations actually understand the premise behind the evolution, let alone the ideas and more importantly, the technology, behind most things legitimately 2.0.
Selling services without respecting and understanding the playing field truly is the dark side of PR.
PR 2.0 was not at all inspired by Web 2.0. It is, however, influenced by it – just as it was by Web 1.0, search engine marketing (SEM) and social media.
It is the art and science of learning from, and practicing, the pearls of wisdom that shake out from the ongoing street brawl between traditional, social, and new media, as they fight for survival and the ability to influence.
It truly is PR redux, and there are those who are carrying the flag with a true working knowledge and honest conviction in order to improve an industry, long plagued and hampered by the lack of PR for itself.
Unfortunately, the PR industry has positioned itself as a necessary evil or the bastard, oft-misunderstood step child of marketing communications.
There's been very little done about it, outside of the echo chamber.
Then, to add to the mix, there's social media…which is also a hot topic as a different set of capital-driven marketers are also brandishing it as new marketing and pissing off a lot of influential people along the way.
Social media is important because it represents the democratization of news and information.
But, PR 2.0 isn't Social Media. And Social Media isn't Web 2.0. These are also distinct movements that can complement and inspire each other.
PR 2.0 does, however, incorporate the tools that enable the socialization of media, providing smart folks with the ability to reach folks directly.
Social Media frames "media" in a socialized context, but it doesn't invite PR (as it exists today) to market through (or to) it. However, worthy individuals can participate in conversations.
"Worthy" and the associated boundaries will only be defined by those who fail miserably. The elements that make information so popular in social arenas can also quickly become a global case study of what not to do. People can quickly become piranhas if they feel that they're being manipulated.
We have to be careful about how much of what we're highlighting is social media vs. the art and practice of "social tools" used to converse with people. Seems that's a hot topic when I meet with the likes of those defining the landscape through socialized applications.
In all honesty, the best new media practitioners are using social tools to conduct so-called PR 2.0 transparently. At the end of the day it's about the conversations you start, not by how many people in the industry understand how you did it.
Most web and marketing savvy pros prefer not categorize significant movements with a simple number – especially if it represents such incredible change. I concur. But in the absence of qualified, representative categories, I ask that we all agree that something is taking place here, and has been shifting for the last ten-fifteen years (at least).
Web 2.0 aside, PR 2.0 is an opportunity to force a renaissance of a worn and beaten profession and transform it into something much bigger and meaningful. PR 2.0 is about bringing value and prestige back into the profession, while creating a new breed of communications professionals for a new century.
It is not a derivative of Web 2.0 and those who categorize it as such are deflating a powerful opportunity for change.
# # #
Background, further reading and observations:
Edelman has been placed on the PR 2.0 podium and praised as the premier agency leading the way. I do give them credit for trying…but they are more often than not, showing us what "not" to do.
A senior PR person recently presented at a local PRSA meeting and claimed that PR 2.0 was created by Web 2.0 and the crowd believed it. Some PR consultants and agencies are marketing PR 2.0 as a "new" service that "allows them to reach consumers at a whole new level" purporting that "As the dot.com model of the Internet quickly and seamlessly morphs into Web 2.0, your company must be prepared."
In a recent post entitled, "Web 2.0 Drives PR 2.0" the author claims that blogs require PR 2.0, "Given these dynamics, organizations must rethink their marketing and PR strategy, and identify how to harness the power of the geographically dispersed specialist PR 2.0 must target bloggers…" We simply call that blogger or influencer relations…
Other posts equate PR 2.0 as a way of using the latest Web tools.
There are also takes on how can communications can tap into the power of PR 2.0 "conversations" by persuading, not presenting. This post was actually pretty informative, but I vehemently disagree that conversations are based on persuasion. It is about knowledge, the understanding of the needs and pain points of the people you're trying to reach (note: there are many different groups) and the ability to effectively and transparently communicate with them.
I found that the PRSA Boston blog shares my distaste for linking Web 2.0 and PR 2.0 as trendy labels. I don't at all agree with the rev cycles in this post, however, because PR 1.0 – PR 8.0 (as described) are all rooted in the practice of one-to-many PR, monologue not dialogue.
Here's a great post by Donna Bogatin over at ZDNet. Entitled Web 2.0: Does 'old media' get it?, the answer in my opinion, is no. Many live in a comfortable sense of denial. However, accepting denial is the first step to "getting it" and therefore staying relevant in today's conversations.
For more on Social Media, take a look at SMC.
—-
For the word version of this article, click download – courtesy of ThinkFree's Online alternative to Microsoft Office
ThinkFree Viewer
Add to: Technorati Digg del.icio.us Yahoo BlinkList Spurl reddit Furl
Vote for this post at NewPR
pr2.0 pr 2.0 web media2.0 media "media+2.0" "media2.0 media+2.0 web+2.0 web2.0 edelman ferrari walmart flogs social social+media socialmedia brian+solis web1.0 1.0 public relations public+relations thinkfree manifesto