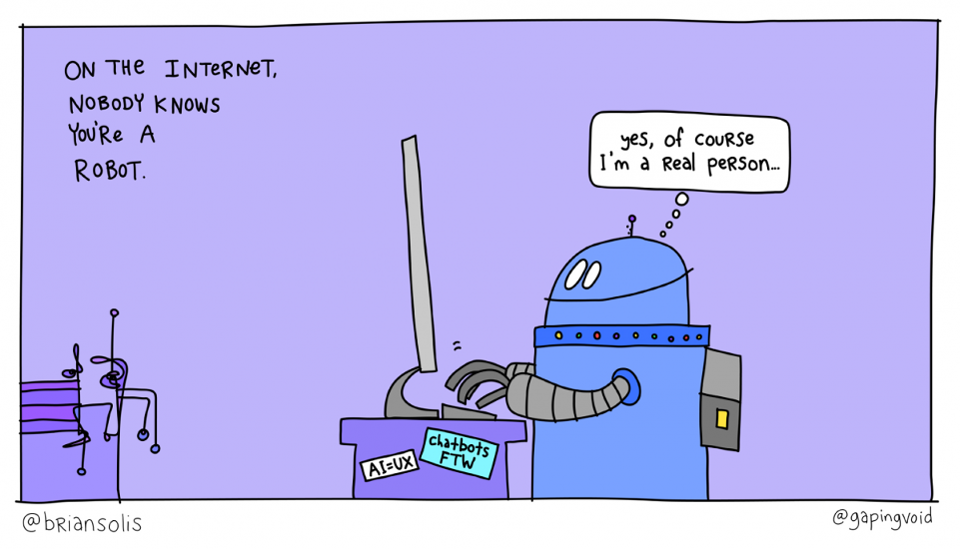 No matter how much sweetness or spin you add to it, early incarnations of AI-powered chatbots are the call centers of this generation. They're cool. They're scalable. They're relatively inexpensive compared to human agents.
Yes, chatbots scale engagement through new, popular messaging channels and introduce conversational commerce capabilities that carry the potential to deliver incredible experiences. But here's the thing…most of the interactions are basic, seeking to replicate existing transactions and experiences that only seem to wow those designing not experiencing them.
On the other side of code and algorithms however, are discerning, sophisticated, self-interested human beings. Transactions and capacity aside, engagement and experiences need to be designed to ever-shifting and heightened human standards and expectations. They don't care that you have the ability to automate engagement. They care about engagement, experiences and outcomes. They care about themselves.
To design incredible experiences, conversational commerce engineers need to embrace human-centered design. Doing so combines the ability of messaging platforms, machine learning, AI as well as empathy, emotion and user experience (UX) interface design (UI).
IQ (Intelligence Quotient) + EQ (Emotional Quotient) + HQ (Human Quotient) = AI-Powered Experiences That Matter to People
I said as much at the 2016 DES (Digital Enterprise Show) in Madrid.
Before my plenary, I was asked to share my thoughts on next-gen conversational commerce design. I wrote about it for Forbes. But I also wanted to share my slides with you here.  Between the two, I hoping we can spark some great conversations and creativity to upgrade the future of artificial intelligence and human engagement.
Imagine the possibilities for customer service, support, e-commerce, search, CRM, loyalty programs, proactive engagement and all forms of CX 2.0! And, it's not just about customers…it's also about EX and employee engagement and experiences!
Brian Solis
Brian Solis is principal analyst and futurist at Altimeter, the digital analyst group at Prophet, Brian is world renowned keynote speaker and 7x best-selling author. His latest book, X: Where Business Meets Design, explores the future of brand and customer engagement through experience design. Invite him to speak at your event or bring him in to inspire and change executive mindsets.
Connect with Brian!
Twitter: @briansolis
Facebook: TheBrianSolis
LinkedIn: BrianSolis
Instagram: BrianSolis
Youtube: BrianSolisTV
Snapchat: BrianSolis